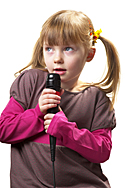 It's every mother's dream. To see her children up in front of church, singing for Jesus. Right?
After six weeks of practicing, the kid's choir at church recently performed for a special service. All three of my children are in the choir and it was their first time up on the stage. My boys looked a little deer-in-the-headlights at first, but did well. My four-year old daughter? Well… During the first song, she pretty much just stood there. Mouth closed. Occasionally waving at me.
During the second song, she figured out that video of her little choir was being projected up on the big screens behind her and so she spent the majority of that song turned completely around, staring up and pointing at herself on the screens.
And then came the third song. At that point she realized that the microphone in front of her was actually on and that if she just gave a little push to the girl next to her, she could have the mic all to herself. And she took great advantage. Both hands encircled the mic and she sang for all she was worth – sometimes even on the right notes.
The audience laughed. I blushed a little. She grinned and was proud.
Struggle to Perform
It reminded me of something I too have practiced a lot in life, but that I struggle to perform very well; sharing with people about my experience with Christ. Though I have good intentions and even practice in my head what I might say to someone, when it comes to the moment, sometimes I freeze. I get nervous I'll say the wrong thing and mess it all up. And so I say nothing.
Other times I worry how I'll look. Will they see me differently if I share about what Jesus has done for me? Will they think I'm a fanatic and stop spending time with me? I doubt myself and doubt they are in the right place to accept my words. And so I say nothing.
The problem with both of those worries is they are squarely focused on me. Which is the last place I should be looking when trying to share about Jesus. It's about Him. Not me. And He promised that the Holy Spirit would be here to give me the words, to prepare hearts and to give me the strength and confidence to just grab the mic and belt out my story.
It is not my job to worry about all the details. It's my job to simply open my mouth and speak – sometimes even with His right words.
"This is what we speak, not in words taught us by human wisdom but in words taught by the Spirit, explaining spiritual realities with Spirit-taught words" (1 Corinthians 2:13).