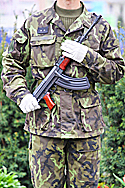 In September 2009 a group of American soldiers were making their way to an Afghan village when suddenly the whole valley exploded with gunfire from the Taliban. Dakota Meyer was about a mile away and asked permission to enter the fray and help save his fellow soldiers, his friends. Four times he and his partner, Juan Rodriguez-Chavez were denied permission. But Dakota couldn't just sit and watch his comrades be killed. [1]
Dakota looked at Juan and said, "Let's go." The two jumped into a Humvee. Juan took the wheel and Dakota manned the turret gun. They drove straight into the middle of a killing zone where there was heavy fire from machine guns, mortars, and grenades. Coming upon wounded Afghan soldiers, Dakota jumped out, exposing himself to death, and pulled men into the truck and then drove away.
Not wanting to leave anyone behind, the two drove back into the fray again. This time Dakota's gun jammed so he grabbed another. Once more they stopped and loaded men into the truck who were wounded and dying then drove away. The third time they went back enemy soldiers literally came up to the Humvee to stop them. Their vehicle was full of bullet holes as they fought back.
Heroic Efforts 
On the fourth round Dakota confessed that he thought he would die. But they pressed on. Finally, on their fifth run into the village they broke through to where fellow American soldiers were trapped. A couple others helped load the men into the truck. As a result of his heroic efforts, 36 men's lives were spared. What does Dakota say to all this when receiving a medal of honor as a US Marine? "That's what you do for a brother."
Paul once wrote to young Timothy and said, "You therefore, my son, be strong in the grace that is in Christ Jesus. And the things that you have heard from me among many witnesses, commit these to faithful men who will be able to teach others also. You therefore must endure hardship as a good soldier of Jesus Christ" (2 Timothy 2:1–3).
Dakota was actually on a mission that provided training to a patrol of Afghan forces. That day he demonstrated by his own actions the sacrificial work of a good soldier. We too must endure hardships as we sacrificially give our lives to the work of Jesus Christ in order to save our brothers and sisters in this world. God help our witness be backed up by our actions. [1]