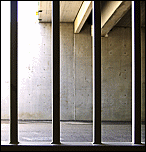 Calvin Willis stepped out of the Louisiana State Penitentiary at Angola, his arms raised in victory. Willis had served 22 years—half his lifetime—behind prison bars for another man's brutal crime. Post-conviction DNA testing in 2003 excluded Willis as the perpetrator of a 1981 rape for which he was sentenced to life without the possibility of parole.
Despite a solid alibi and evidence that pointed toward another individual, witnesses' accounts and a match between Willis' blood type and fluids found at the scene persuaded a jury that Willis was guilty. Only after technological advances enabled further testing of the decades-old DNA was Willis exonerated.
It is unthinkable that Willis, or any other human being, would purposely accept the punishment for another's crime. However, fully understanding the path His conviction would lead Him, Jesus suffered willingly for crimes he had no part in—the sins of countless generations to come. He took the wrongs of the beings He loved so much and made the crimes His own, accepting not only the disfiguring stigma of the sins themselves, but also the separation from God that was an inherent part of the process.
Healing Power
Isaiah 52:13 – 53:12 foretells the story of His great sacrifice. "But the fact is, it was our pains he carried–our disfigurements, all the things wrong with us. We thought he brought it on himself, that God was punishing him for his own failures. But it was our sins that did that to him, that ripped and tore and crushed him–our sins! He took the punishment, and that made us whole. Through his bruises we are healed" (Isaiah 53:4-5).
Christ knew we were imperfect. He could see each and every sin humans would commit throughout the centuries. He knew many would turn their back and refuse His sacrifice. And yet, we are told, like a lamb about to be sacrificed, Jesus lay down His life in an effort to save even one person who might choose life over sin and Christ over chaos (Isaiah 53:7).
While it is only natural for a human to seek justice over a wrongful conviction, Christ knew His acceptance of our sins would have wonderful eternal ramifications for those who would choose Him. Isaiah 53:12 states, "Therefore I'll reward him extravagantly–the best of everything, the highest honors–Because he looked death in the face and didn't flinch, because he embraced the company of the lowest. He took on his own shoulders the sin of the many, he took up the cause of all the black sheep." For the cost of His suffering, we are invited to spend eternity with Him in a place created especially for us.