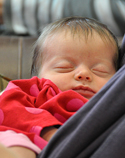 Over the holidays, I was able to spend time with some family I hadn't seen in a while. It was nice to reconnect with them. I got to help my aunt with her newborn baby girl, Sofia. It was such a joy to see a beautiful new life and be reminded of how small we start and how much we grow.
In just the two weeks I was there, I saw how often babies eat and how Sophia grew so quickly. She would cry and scream in protest until the bottle of milk made its way to her mouth. But Sophia seemed to be hungry again right away. My aunt decided to increase Sophia's intake, and was shocked when baby Sofia drank all the milk and still cried for more. In just a few days, baby Sofia went from drinking two ounces of milk to six. For a three-week old baby, that is a big jump!
Seeing baby Sofia grow during my time there reminded me of a passage in the Bible: "Like newborn babies, long for the pure milk of the word, so that by it you may grow in respect to salvation" (1 Peter 2:2, NASB).
Spiritual Milk
As spiritual newborn babies we must drink spiritual milk: God's Word. That is the only way we can expect to grow. And the more we hunger for the Word of God, the more we will be able to understand, thus growing in knowledge of our Heavenly Father. When I'm having a bad day or in need of spiritual guidance, there are a few go-to verses I have that help get me through the day. Here are just a couple:
"For I know the plans that I have for you,' declares the Lord, 'plans for welfare and not calamity to give you a future and a hope.'" (Jeremiah 29:11, NASB)
"He gives strength to those who are tired and more power to those who are weak. Even children become tired and need to rest, and young people trip and fall. But the people who trust the Lord will become strong again. They will rise up as an eagle in the sky; they will run and not need rest; they will walk and not become tired." (Isaiah 40:29-31, NCV)
"But in all these things we are completely victorious through God who showed His love for us." (Romans 8:37, NCV)
At the start of this new year, I challenge you to grow spiritually. Start with a few verses a day and let God speak to your specific need for that day. As you spend time in the Word communicating with God, you will hunger for more of God's Word. It all starts with baby steps.