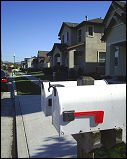 Remember when chain letters were all the rage? In case you've forgotten, they went something like this:  An anonymous letter arrived in the mail notifying you of your opportunity to make thousands of dollars, by simply investing a mere $7. All you had to do was enclose a copy of the letter with a one-dollar bill to the top seven people on the attached list, then add your name to the bottom. Hypothetically, within just a few weeks, you would receive thousands of dollars in one-dollar bills, as your name moved to the top of the list.
I remember once participating in a chain letter dishtowel scheme. I sent out three brand new dishtowels and was eventually supposed to receive 49 in return. I got seven! Oh well, I made a profit of four towels!
More than once I have received emails from friends that suggest that God also operates on the chain letter formula. As I opened one such cyber note, a picture of Jesus holding a bouquet of beautiful flowers flashed on the screen with the following message: "Please do not keep this message for yourself alone. Someone, somewhere needs you. Send this message to ten friends and see what happens to your life. On the fourth day your life will improve!"
I've even found similar suggestions tucked away in the Pennysaver between adds for microwave ovens and sleeper sofas. These too, suggest that if you pray a certain prayer three times a day, for seven days, your life will miraculously change.
Too Good to Be True
It would, of course, be easier for us if God worked on the chain letter formula. We would simply pop out a few prayers, or emails, then wait the prescribed number of days, and presto! Changed lives! But God doesn't work that way.
Our Creator is in the life changing business, but the Lord's deepest desire is to have a relationship with us, transforming our lives in the process. Imagine that! The Creator of the universe longs for our friendship. Amazing!  And, if we make the time to get to know the Lord, we will be surprised at how much like God we start to become as a byproduct of that time spent together.