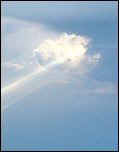 Every year at Christmas time, much of the world celebrates the first coming of Jesus. Most of us know the story. Jesus came to earth as a baby. His baby bed was a feeding trough for livestock. There were Joseph and Mary, as well as angels, and shepherds, and wise men.
God did all this to show us just how much He loves all the people in this world–loves them enough send Jesus to die for them.
But there's more to the story than that. God wants everyone to be with Him. Not long before Jesus left this earth to go back to heaven, He told His followers, "There are many rooms in My Father's house. I wouldn't tell you this, unless it was true. I am going to prepare a place for each of you. After I have done this, I will come back and take you with Me. Then we will be together" (John 14:2, 3).
Jesus' Second Coming
Jesus' first coming wouldn't mean so much if it were not for His second coming. Jesus has something much better in mind for us than this world as it is now. There are too many problems here. Too much suffering, sickness, war, death, and terrorism. God didn't plan it this way. All this has been caused by sin. And God wants to get rid of sin with all its results, just as soon as possible. But he won't do it by trying to force people to do what's right.
God sent Jesus to our world to show us the way. The way to live a happy, healthful, and worthwhile life. But we have a choice. Jesus is coming back to this earth the second time to gather together all who have chosen to live His way. All those who want to live in a perfect world without sin and all its results. You can read all about it in God's word, the Bible.
I really want to live in a world like that, what about you?