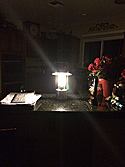 "And there shall be a time of trouble, such as never was…" (Daniel 12:1).
A nasty windstorm blew through our area a few weeks ago and left lots of damage. Many trees fell on power lines. Some smashed houses and cars. Dry lightning strikes created a few bush fires. When the winds first began to blow, there was an eerie color in the air before it hit. Then, for an hour, all hell broke loose.
I stood on our porch, close to the house, and observed the ferocious gusts bending trees and toss large branches into our yard. One landed on a bush next to the house and fortunately missed our roof. Dust blew so thickly that you couldn't see very far down our driveway. Suddenly the lights went dead.
Since I hate being in the dark, in more than just one way, I listened to a portable radio for news about the storm. It was Sunday afternoon and not one station was providing updates. It was very frustrating to me. I finally decided to drive around our area for myself to assess the damage.
While gawking at all the fallen trees on a country road a mile from our home I accidently drove over a power line lying across the road. Fortunately it was dead! I immediately tried to call 9-1-1 to report the problem but couldn't get through, even after five tries.
Broken Power Line
That's when I noticed the fire station. I quickly pulled up to the building. A generator was running and a firefighter was talking on a handheld radio. I was feeling a little stressed as I jumped out of my car and walked quickly toward him. He smiled as I approached. After I reported the broken power line, he calmly made a note and said, "Thanks, we've got it covered."
As I drove back home, I thought to myself, "I sure liked that man's confidence." That's when I was reminded that someday a time of trouble will come to our planet like we've never seen before. Some people are worried about that difficult time, but like the firefighter who spoke to me, we have a God whose hand will be over us saying, "Don't worry, I've got you covered."
David wrote: "God is our refuge and strength, a very present help in trouble. Therefore we will not fear, even though the earth be removed, and though the mountains be carried into the midst of the sea; though its waters roar and be troubled, though the mountains shake with its swelling" (Psalm 46:1–3).
The windstorm last week left us without power for a couple days, but we are never left without the power and presence of the Lord.