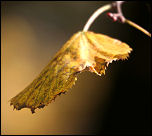 I can still remember the night that my sister received the news that changed her life. A neighbor came running to the door and breathlessly told us that a long distance call was waiting for her at grandma's house. We didn't have a telephone yet, so the entire family quickly piled into the car and we rode the half-mile distance with her to grandma's house.
The soft tick-tock of the living room regulator clock was punctuated by my sister's ragged sobs. My mother's soft voice quietly shushed my five-year old inquiries about the terrible event that had occurred. A longtime boyfriend was dead, and my sister could not contain her sorrow. The following weeks were filled with emotion as she struggled to understand why the brave young soldier that she adored was gone. He was a medic in the Vietnam conflict and was mortally wounded while attempting to reach a fallen buddy.
It was then, at the tender age of five, that I realized that death is an indiscriminate dream stealer. My sister's life was profoundly affected, and my own young life was filled with questions that I couldn't seem to answer. One of those questions was, "why did he have to die?" It didn't seem fair. He was young, handsome, and sure seemed to like me whenever I came around him. As small as I was, I still thought he would have made a great brother-in-law, and his loss troubled me.
Why do we lose those we love? Somehow a pat answer like, "because we live in a sinful world" just hasn't brought the closure and peace that I long for. To lose someone that I care about is painful, life altering, and I'm tired of it. I've had my fill of watching people I love pass away, and the only thing that keeps me coping is the thought that someday we'll never have to say goodbye again.
The Bible says, "And God will wipe away every tear from their eyes; there shall be no more death, nor sorrow, nor crying. There shall be no more pain, for the former things have passed away" (Revelation 21:4).
I may not understand it all now, but I'm strangely comforted to think that someday I will. And when that day comes, death, and all the pain that accompanies it will be a thing of the past.