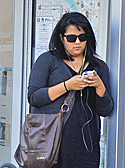 My 12-year-old "tween" daughter has been educating me in the finer points of text-ese, that is for all you uneducated people, the language of texting. Even as I write this my overworked thumbs and forefingers are screaming out for a much needed rest. I should have purchased stock in Tylenol!
But I digress. One interesting term she has shared with me is DTR—it means "define the relationship." Apparently this is what people in relationships—usually romantic ones—do after a time of dating and they want to "take it to the next level."
In 2 Chronicles 34, there is a story of a guy named Josiah. He was learning to do things in a different way than the people before him. "Josiah was eight years old when he became king, and he reigned in Jerusalem thirty-one years. He did what was right in the eyes of the Lord and followed the ways of his father David, not turning aside to the right or to the left" (verses 1, 2).
Cleans House
In verses 1-8 of that chapter, Josiah "cleans house" so to speak. It's almost like he says to God "Okay God, I'm tired of messing around; it's time I got serious about You!" Take some time right now and read the rest of that chapter for yourself; you'll learn the amazing results when just one person DTR with God.
So what about you? Do you recognize that if you got serious about knowing, loving, and living Jesus and DTR—God could come this year?!
The author Ellen White wrote: "There is nothing that Satan fears so much as that the people of God shall clear the way by removing every hindrance, so that the Lord can pour out His Spirit upon a languishing church and an impenitent congregation…When the way is prepared for the Spirit of God, the blessing will come."
So what's it going to be? Will this be the year you say to God, "Let's DTR!" I certainly hope so, because He's ready and waiting (Revelation 3:20). Today get serious with God; you've got nothing to lose and eternity to gain.