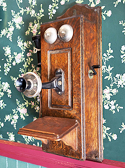 "Mr. Watson, come here… I want to see you," said Alexander Graham Bell. And sure enough, Watson answered.
That very first phone call took place March 10, 1876. Some even joke saying the second phone call took place that same evening with someone on the other end asking Mr. Bell if he wanted to buy some suspenders.
Though that was just a joke, telemarketing seems to go hand in hand with phones. The constant barrage of phone calls, whether it's someone trying to sell insurance or credit cards, asking you to do a survey, or a politician requesting your vote is irritating; it seems like the phones ring constantly. After years of complaints from consumers, the FTC decided to finally do something. They set up a national Do Not Call Registry1 to help consumers.
Although it has its flaws and does not stop all calls, it gives consumers some outlet. The registry is designed to stop telemarketers from calling to sell you something, as long as your name is on the list. It doesn't stop political adds, or most surveys, but will address those nagging sales calls. And while on the Do Not Call List, if you do receive a call, all you do is tell the company that you are on the Do Not Call List and you want your name removed from their database. At this point, you visit the Do Not Call Registry website and report the company (company name, date, phone number, your name and number) and the feds will monitor to see if the company is habitually breaking the law and deal with them accordingly.
Leave Us Alone
Wouldn't it also be nice to tell the devil to leave us alone—a do-not-bother-me list if you will, affording us a break from his constant assails in life, the stress, the temptations, the trials of our families. Poof, all gone!
Although this side of eternity we do not yet have a break, we do have help. We're given a promise if we submit ourselves to God and resist the devil, he will flee from us (see James 4:7-9).
Ephesians 6 even provides us with some instructions on how to do this. We're encouraged to pray asking God's help, and to put on the armor of God which helps us overcome the devil. This is the closest thing we have to a devil-do-not-bother-me registry. In doing this, we have a never-failing advocate who keeps track and, unlike the FTC, will truly one day punish the adversary who attacks us. Why not go ahead, read those verses and see for yourself how to get protection.