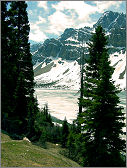 I've been a flatlander for most of my life. With the exception of one year in which I could see the Pennsylvania mountains in the distance, I have lived where the land was gently rolling at best. Currently I live in a state where the highest elevation is only several stories higher than my garage roof. I have always enjoyed a greater sense of God's presence whenever I can get outside of buildings and cities, away from the things that humans have made. It is easier for me to pray.
All year I've been viewing scenes from the Canadian Rockies on a calendar in my kitchen—anticipating when I would stand before such places. Recently my husband and I traveled to Alberta, Canada, to spend some time with old friends and to travel to Banff and Jasper. At each stop along the way, the scenery used up all the grandiose adjectives that I could remember. "Wow," just didn't seem to be an adequate expression. I wanted to thank God or tell Him something but I couldn't find the words. Bible verses came to mind, "We do not know what we ought to pray for, but the Spirit himself intercedes for us with groans that words cannot express" (Romans 8:26). As I stood on the top of a glacier that was estimated to be as deep as The Eiffel Tower beneath us, I was reminded of how incredibly tiny we humans really are in all of God's creation. Yet He loves each person. I had a new appreciation for Ephesians 3:17,18: "And I pray that you, being rooted and established in love, may have power, together with all the saints to grasp how wide and long and high and deep is the love of Christ."
Inspire Me
I wanted to study the colors and cloud shadows on the mountains and waterfalls in different light throughout the day, and in each season. I guess my eyes and soul were thirsty for grandeur, as the mountains seemed endlessly fascinating. The power of weather and the wildness of the terrain also created a new respect and fear for the natural environment. The towering ranges seemed to expand and consume all of the earth. However, they quickly receded into the background as we drove several hours away, and eventually flew away from them. It was with certain sadness that I left them behind. Will anything inspire me like that again?
God is bigger and more powerful because of my trip to the mountains. I can better appreciate author C.S. Lewis' symbolism of God as Aslan the lion, whom he proclaimed was not a "tame cat." I have new physical symbols for His attributes. Watching the endless gushing of waterfalls, I thought also of the endless strength of the Holy Spirit, "Suddenly a sound like the blowing of a violent wind came from heaven and filled the whole house where they were sitting" (Acts 2:2). It is a little easier to visualize those scenes from Revelation at the end of time: (6:14), "The sky receded like a scroll, rolling up, and every mountain and island was removed from its place," and (16:20), "Every island fled away and the mountains could not be found."
Now my Bible reminds me of the calendar photos of the Canadian Rockies. The calendar photos used to be two-dimensional snapshots of something too expansive to imagine or explain—a hope that I carried in my heart. For the rest of the year, the calendar has become the reminder of a grand and glorious experience. If your God has gotten weak and small, perhaps you need a change of scenery.