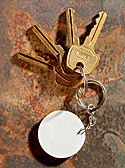 My wife and I were invited to a large country church in our area for their Easter play. Though this was the third performance, the parking lot was quite full. The actors were just country folk. And one of the members of that congregation was actually the person who had written the play. We were impressed! They did an outstanding job on their expressions, their movement, their lines!
The writer of the script did an wonderful job of presenting the life of Christ. Throughout the two hour performance we enjoyed many mini-skits involving the life of Jesus. Then after each mini-skit all the lights would dim except for a spotlight focusing on one person who would give a brief commentary. A few of the examples were the woman caught in adultery, Simon Peter after Christ's capture, and Simon of Cyrene, the man who carried Christ's cross.
The choir wore Bible costumes. They sang many of the hymns we love and a few I'd never heard. The singers complimented the actors. Each did an exceptional job.
Best Part For Me
The best part in the play for me came at the very end. It was there at the conclusion, that each of the actors brought something and placed it at the foot of the cross or hung it over one of the side beams. Peter threw his sword at the foot of the cross. A Roman soldier placed his helmet there. Another soldier draped his whip over one of the beams. The woman caught in adultery dropped a rock in front of the instrument of torture.
But the symbolism that spoke to the deepest parts of my heart, was the actor who played Jesus. As he passed by the makeshift cross, he held out an old ring of keys. Then he reached up and suspended that ring on the crimson stained nail for all to see. As I and many others shouted, "Amen!" and clapped our hands, I could not help but think of that verse in Revelation 1:18.
"I am the Living One; I was dead, and now look, I am alive for ever and ever! And I hold the keys of death and Hades."
In this world of death and dying, it is such a comfort to know that the real Jesus, who died, and rose again, now holds the key to life immortal. Thank God! He holds the key!