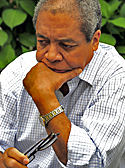 I love reading biographies of famous people. It inspires me to live with a greater purpose in life. Whether it is the sacrificial life of Dietrich Bonhoeffer or the daring acts of Raoul Wallerstein, the stories of common people, who never thought of themselves as heroes, challenges me to live beyond myself.
I'm currently plowing through David McCullough's monumental Truman. With over 1,000 pages, it is not for the faint of heart! Harry Truman was a simple, blue-collar man who grew up on a Missouri farm. His rise to the presidency of the United States surprised everyone. A taxi driver once remarked, "If Harry Truman can become president, then my next door neighbor could too!" Marked with many successes and some failures, Truman persisted on being honest and faithful in his work.
What strikes me most about this often overlooked leader is his humility. He found flattery disgusting and always spoke in a very clear, straightforward manner. Perhaps the greatest challenge of his life came when his predecessor, Franklin D. Roosevelt, died. As Vice President at the time, it plunged Truman into the captain's chair during a critical time in American history. With a World War to wrap up and a pair of shoes he knew he could never fill (FDR was greatly beloved by the nation), "Harry" stepped up to the tasks at hand.
First Big Test
McCullough writes of Truman's first big test as president. He spoke to Congress just three days after being sworn into office. He says the leader passed with flying colors. The short, fifteen minute speech includes these words:
"At this moment I have in my heart a prayer. As I have assumed my duties, I humbly pray Almighty God, in the words of King Solomon: 'Give therefore Thy servant an understanding heart to judge Thy people, that I may discern between good and bad: for who is able to judge this Thy so great a people?' (1 Kings 3:9). I ask only to be a good and faithful servant of my Lord and my people" (David McCullough, Truman, p. 358).
What type of a leader are you? No matter what role you fill in this world, whether as a parent, a public servant, a church member, or a child of God, you lead by how you live. Are you inflated with self-importance or easily offended if people don't recognize your authority? If so, you are probably self-deceived with how much power you think you have.
As long as Solomon kept his focus on God, he was the greatest of all public leaders in world history. His fame and fortune stood next to none because he knew who he was and he knew who God was. But when he turned inward, to his own pleasures and vices, his true greatness fell.
Harry Truman was an imperfect man, but his life, by in large, exemplified that when you keep a humble opinion of yourself, it qualifies you to be an exceptional leader.