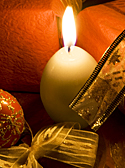 To many people today, the name Immanuel doesn't have any particular significance. But to the Hebrew-speaking people in Isaiah's time, it meant everything. They knew that this name meant "God with us." And that's what the universe had been waiting for since sin first entered our world. The day Adam and Eve chose to disobey and had to leave the Garden of Eden, humans lost daily face-to-face communication with God. And the more time that passed, the greater our separation became. Almost immediately, selfishness, jealousy, hatred, murder, lying, adultery and the worship of false gods became the norm—driving a wedge between God and us.
One of my college professors told a memorable story that clearly illustrated this separation. An elderly couple was driving to church. The husband was sitting behind the wheel, while his wife was sitting way over next to the passenger door, with a wide empty space between them. The wife looked longingly at her husband and said, "Remember when we used to sit side-by-side in the car, all snuggled up at close to each other?" There was a moment of silence. Then the husband turned to his wife and answered, "Dear, I haven't moved."
He Didn't Move
And so it is with God and us. He didn't move. We did. And yet He was the one who took that first step to close the vast gap that sin caused. Since we couldn't go to Him in Heaven, He came to earth as a baby. Hundreds of years after Isaiah's prophecy, we hear it repeated in Matthew 1:23: "'Behold, the virgin shall be with child, and bear a Son, and they shall call His name Immanuel,' which is translated, 'God with us.'"
So this Christmas, along with the tree and the tinsel, the cookies and the caroling, the presents and the pie—remember the One named Immanuel. Whether your Christmas holds a wonderful time of plenty with family and friends, or a time of great loss—the loss of a house, a job, a loved one, a marriage, a reputation, a friendship or a bank account—in the middle of it all, you can draw close to God. And you can celebrate—celebrate the fact that you've been given the greatest gift of all: Immanuel, God with us. Immanuel, God with you.