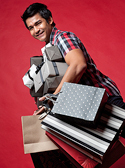 "I can do all things, all things, all things, I can do all things through Christ who strengthens me," sang my daughter while jumping up and down with her eyes closed, swinging her pink and purple pom-poms in my face. When she finished, her mother and I exploded into applause and general frothy-mouthed, parent mayhem. The text she was singing, Philippians 4:13, is good news in itself, but when read within the larger context of the passage even better news.
I find it interesting that most people in developed countries have a difficult time being satisfied or contented with themselves, the world, the stuff they have—basically everything in their life! It seems that nothing is ever good enough for them. Like a stomachache, this discontented attitude is simply a symptom of something much deeper.
The better news of Philippians 4:13, is found in the verses that come before and after it. "Not that I was ever in need, for I have learned how to be content with whatever I have. I know how to live on almost nothing or with everything. I have learned the secret of living in every situation, whether it is with a full stomach or empty, with plenty or little. For I can do everything through Christ, who gives me strength. . . . And this same God who takes care of me will supply all your needs from his glorious riches, which have been given to us in Christ Jesus" (verses 11-12; 19).
Secret to Contentment
Paul, the writer, says that the secret to contentment is found in Jesus. That's simple and yet very profound. You have to understand where Paul was when he was writing this letter. He was in jail! During his imprisonment in a Roman prison Paul wrote to encourage the Christians of Philippi. Paul, always thinking of others and in the midst of being in shackles and likely chained up to other people; without clean water or nutritious food, medicine, electricity, cable TV, Facebook, the Internet, Wii, or anything else, wrote about the power, peace and purpose of knowing and being found in Jesus. Paul was (metaphorically) jumping for joy in jail!
If our focus is solely on having things, we can get to the point where we're always looking for the next best, newest, biggest or fastest . . . and in the end, we will never be fulfilled. But if we focus our attention not on having more stuff but on having more of a relationship with a person (and not just any person—Jesus), then we'll never be disappointed.
Today, choose Jesus over everything and everybody else, He's the only one who can permanently fill that hole in your soul.