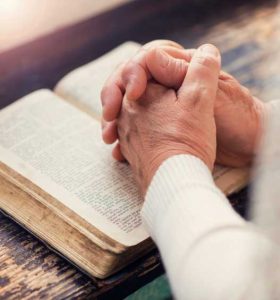 "Then they were glad because they were quiet, so He guided them to their desired haven" (Psalm 107:20).
In today's "information age" when our senses are continuously bombarded with stimuli, silence can be an obscure commodity. We often find ourselves longing for quietness and mental peace amidst the onslaught of turmoil and catastrophe.
If one's wealth in this world is measured by his thinking, as author and naturalist Sam Campbell believed, then managing our everyday thoughts is of extreme value. A definition of meditation which I like is: Stilling the endless chatter of your mind and listening for the still small voice of God within.
Meditation and prayer are huge subjects and mean many different things to different people. For myself, I have found four things that give consistency and meaning to my personal quest for quiet times of meditation and prayer.
First I must be truly committed to my allotted time. I choose early mornings to minimize interruptions. When I need encouragement to continue this discipline I review mentally what happens when I skip days.
Next I need a special, private place. This can be a specific chair or desk, or if the weather allows, a place outside. Some people like to have two chairs so they can imagine Christ sitting beside them. Since I am a visual person I have a picture that I like of Jesus—rugged, windblown, smiling slightly, kind yet piercing eyes. I know it's just an artist's conception, but it helps me stay focused.
Helpful Tips
It also helps to have needed materials together and in a handy place. Many people read from the Bible or other inspirational books. Some listen to uplifting music and write in prayer journals. My weekly prayer journal entries help me concentrate not only on what/whom I am praying about, but also serve as a wonderful source of peace and encouragement as I review page after page of requests followed by the answers God has sent. (I've been doing this for 10 years.) My journal also keeps my prayers organized—each day I pray for a certain category—so I never feel like I'm forgetting something really important! I don't say the same words every day, although I have written and memorized short prayers that express my heart's desire towards God which I repeat often.
Finally, I find that joining with other like-minded people in discussion or actual prayer time is beneficial. Prayer partners and prayer chains not only give more things to pray about but also more opportunities for sharing thankfulness and praise. Like all other spiritual disciplines, meditation and prayer become more meaningful with practice and experience. And as we grow spiritually we will lavish less of our time in the noisy crush and rush of "life in the fast lane" and devote more energy toward developing a spiritual standard for ourselves and following generations.
Isn't it fascinating that the most real things in the world are invisible? And becoming aware of the presence of the Unseen is one of the most real and fascinating things of all.