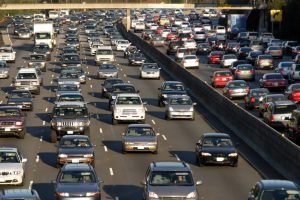 There were no stop lights in the town where I grew up, just stop signs. In this season of my life I live on the outskirts of one of the most populated metropolises in the United States.
Because I grew up on roads without much traffic, the freeways, toll roads and interchanges tend to cause me more stress than someone accustomed to city life. Learning to parallel park between cones in a vacant parking lot and to stay on my side of the country road were big deals for me when I learned to drive!
Now when I need to get on a freeway I pre-program my GPS so I'll be sure to arrive on time and at my destination. When the voice in the box tells me to "keep right" I sometimes have a choice of five lanes with motor cycles, trucks—both large and small—buses and cars surrounding me.
I was already somewhat nervous about the doctor's visit I was heading to. Add to that the fact that this particular office is in the hospital district of the city which was completely out of my comfort zone.
I turned on the radio to have some company. Would you believe the first words I heard coming out of the vocalist's mouth were "Do not be afraid". It happened so fast. Just like that. I didn't even learn the name of the artist or title of the song. I just knew it was a Christian station.
Additional Reason to Pause
The second song gave me additional reason to pause. It included the words "You must trust me" and talked about letting go and giving our cares over to Someone who would be with us during our trials and tribulations.
I didn't close my eyes while driving but I did shoot a silent prayer to my Heavenly Father to thank Him for sending me messages He alone knew I needed.
I arrived at my destination, signed in, paid my insurance co-pay and was told the doctor would be with me soon. (I've come to realize that is a relative term.)
Forty-five minutes later the nurse called me, weighed me and took my blood pressure. I then was taken to another room with no view nor did it contain anything of interest to me. The nurse said, "He'll be with you in a minute". (I've come to realize that is another relative term).
During my time of waiting in the doctor's office I read my book. The nurse's minute turned out to be enough time to read three chapters in my book. Then it happened. A surge of nerves kicked up again. I was alone in a very sterile room when the words on the radio came back to me "Do not be afraid. You must trust Me."
I wasn't alone. The Peacegiver was there all along. I just needed to readjust my focus.
"The Lord is my helper; I will not be afraid" (Hebrews 13:6).