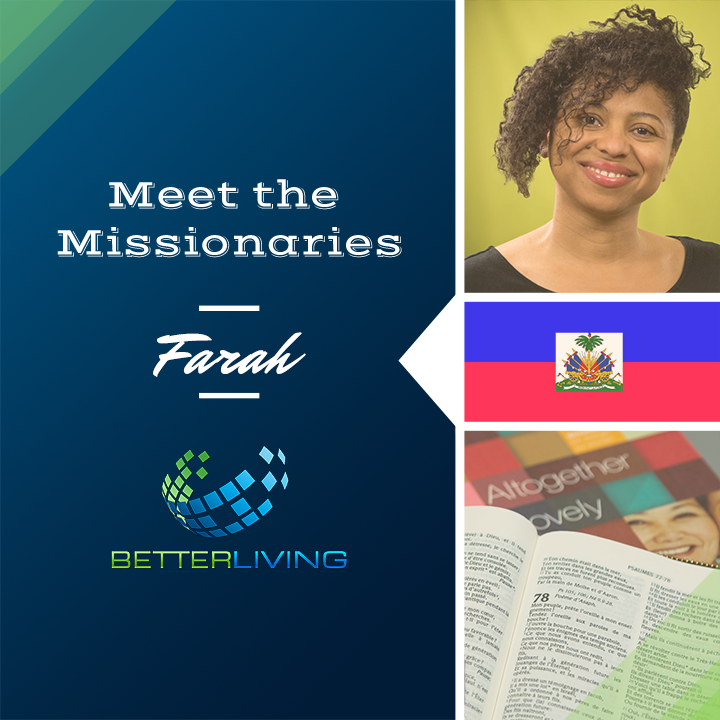 What is your name?
Farah Coppée
Where do you come from?
Haïti
Why did you decided to participate in Better Living Ministry's Media Missionary Program?
After a Youth Conference, I was really touched and moved by the speakers sermons and the amazing way that God was using them. I was so fired-up for the Lord that I decided to completely surrender my life to Him. At the end at the conference I decided to step out of my comfort zone and go out and share the Gospel. I decided to love Jesus more than ever before. The next day I got an email from, Wayne Atwood, president of Better Living Ministry. I was convicted that it was Jesus' calling and I chose to follow Him.
What are you looking forward to the most during the year?
I desire to successfully complete the media program and to use the skills I will learn for God's Glory. I am looking forward to drawing closer to God during my time at Better Living and to better understand His calling for my life. I can't wait to discover more fully why God called me to take this training and to find out how He will use me?
Fun fact:
During a class, when the instructor asked us for the first time to do 10 pushups to stay alert, everyone was laughing at me. I didn't know until I started the program that I didn't know how to do push ups.
What is your favorite Bible verse?
"Whom have I in heaven but you? And earth has nothing I desire besides you. My flesh and my heart may fail,  but God is the strength of my heart and my portion forever". Psalms 73:25-26