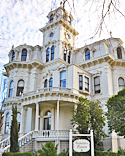 Do you ever lack motivation in your spiritual walk? Or wonder if it's really worth the effort to resist temptation? Should you just give up?
I'm sure we've all struggled with these thoughts at some time or another. I've wondered them myself. After all, being a Christian is hard work isn't it?
What we're losing is perspective. Paul says in Philippians 3:14, "I press toward the goal for the prize of the upward call of God in Christ Jesus." Paul has perspective and momentum here. He's pressing forward, not for the sake of pressing forward, but toward a goal for a prize.
Okay, so what's our goal, and what's our prize? In other words, what goal are we working toward to gain perspective? Pull out your Bible and read Revelation 21, and you will see the prize Paul was working toward. Heaven and the earth made new is our reward.
Assuring Words
Before Jesus left earth after His resurrection He gave us these assuring words, "In My Father's house are many mansions; if it were not so, I would have told you. I go to prepare a place for you. And if I go and prepare a place for you, I will come again and receive you to Myself; that where I am, there you may be also" (John 14:2, 3).
When I feel discouraged in my spiritual walk, or lose Paul's perspective for life, I stop for a moment and ponder the new earth. I mean, just picture it. Let your mind wander over every imaginable aspect of heaven. No pain, no sorrow, no death (Revelation 21:4). Our bodies will be made new, and we will live forever (John 3:16). The lamb will lie down with the lion (Isaiah 11:6). The walls and foundation of the Holy City will be made of countless beautiful minerals and precious stones, and the twelve gates of the city will be twelve enormous pearls, leading to streets of pure gold (Revelation 21:18-21). Literally all things will be made new (Revelation 21:5).
But best of all, we will see Jesus. No beautiful building or unfading flower in heaven will surpass the beauty of the face of Jesus. And when we look into His kind face of love, we will surely say, "Heaven is cheap enough."