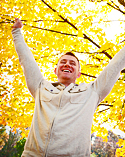 If you ever experience times when you feel as if your prayers are going nowhere or your prayer life has become ho-hum, let me make a suggestion: Infuse your prayers with praise!
Our beautiful God is completely worthy of our praise! When we focus our worship and prayers on His amazing character our faith in Him grows, turning us into stronger pray-ers. Besides that, the Bible tells us God inhabits (or dwells in) the praises of His people (Psalm 22:3), so if we want to bring God close, if we want to draw Him very directly into the problems of our lives then the thing to do is worship Him with our praise.
The Bible exhorts us to bring God our praise. The book of Psalms is a great place to start for ideas on how to praise God, but there are other wonderful examples of the use of praise in the prayers of God's people, as well.
To begin your journey into praying with praise, read Psalm 145. Then take out a piece of paper or your laptop and make a list of all the praiseworthy attributes of God. There are at least 30 attributes in this chapter, starting with verse three. For starters:
Praiseworthy Attributes
God is great and most worthy of praise
No one can fathom His greatness
He performs mighty acts
The splendor of His majesty is glorious
He does wonderful works
He is powerful
He does great deeds
He is abundantly good
He is gracious and compassionate, slow to anger and rich in love
(And the list goes on…)
Finally, take these phrases and weave them into a prayer, thanking God for who He is. Here is one example of how to pray these attributes of God, bringing Him a gift of praise:
"Dear Father in heaven, You are an amazing God and I want to say 'thank you' for who You are. I praise You because You are great and worthy of praise. Thank You that no one can fathom Your greatness – it is beyond our comprehension! I praise You for Your mighty acts, Your wonderful works and Your great deeds! Thank You that You are majestic and that Your splendor is glorious. Thank You for Your abundant goodness. Your grace and compassion are amazing! I am especially thankful that You are slow to anger and rich in love. Thank You, Father, for who You are. In the name of Jesus, Your precious Son, Amen."
Powering up your prayers with praise will change you. Instead of always coming to God asking for favors, you come to worship bringing God your offerings of praise. Praying with praise helps us focus on His beautiful qualities and draws us more deeply into relationship with Him. Most importantly, praying with praise delights and honors God!