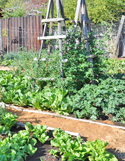 "When you plant a seed something always grows, sometimes it's the seed and sometimes it's the farmer, but hopefully it is both," (Bob Gregory).
Spring has definitely sprung, along with plant-life activity around my garden. Many trays with seeds like radishes, beets, lettuce, kale, now an inch tall, line my grow tables. The neat thing, all the crop failures from last year are in the past and will contribute to my success this year. I begin anew while benefiting from last year's experiences. I've learned if something failed or didn't work out, don't repeat it. When I follow that simple rule, I am rewarded.
There is such a metaphor here! Although we're four months into a new year, it's still a new year. Last year's failures are just that—bound to the last year. This New Year allows us to grow and spring forward with new life. If we are able to learn that simple rule I have in the garden, to not repeat what caused the failures, we're that much farther ahead this year.
Christian Contemporary Musician Steve Green Sings These Words:
"God causes all things to grow,
Through every season we know,
He will guard the life,
That He's planted in our souls;
And when we feel the cold winds blow,
We'll hold to what we know,
God causes all things to grow."
Many of you made New Year's resolutions; to lose weight, be kinder, less stressed or whatever. The first quarter is over, but don't give up! These things take time and you will only achieve your goals if you learn from last year and faithfully stick it out. Along with you new goals, I want to also encourage you to add spending time with God. If we haven't planted Godly things in our hearts, then God cannot cause them to grow.
We're encouraged to "Be patient, therefore, brothers, until the coming of the Lord. See how the farmer waits for the precious fruit of the earth, being patient about it, until it receives the early and the late rains. You also, be patient. Establish your hearts, for the coming of the Lord is at hand. Do not grumble against one another, brothers… As an example of suffering and patience, brothers, take the prophets who spoke in the name of the Lord. Behold, we consider those blessed who remained steadfast. You have heard of the steadfastness of Job, and you have seen the purpose of the Lord, how the Lord is compassionate and merciful" (James 5:7-12).
The things that grow in our hearts are what we put in. I hope one of your New Year's resolutions was a better walk with God; if not, it's not too late to start. He can help you achieve the others as well. Be of good courage!