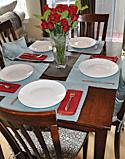 An expensive-looking car stopped alongside the busy road. A well-dressed woman got out and walked toward a cluster of overgrown bushes. She was carrying a box. A homeless man came out of the bushes, took the box, and then quickly disappeared.
My sister, Debi, watched all this happen from her car. When she drove down that same road a few days later, she slowed down enough to peer into the bushes. There was a couple living there! A man and a woman were sitting on two sleeping bags. Next to them was a backpack and a shopping cart.
"That's probably all they own," she thought to herself.
Debi returned to her three-bedroom carpeted house with beds, couches, a fireplace, and plenty of food in the cupboards. My sister has a great big heart for the hurting, and couldn't get what she had just seen out of her mind.
The next day Debi stopped by a fast food restaurant and bought two meals. Not knowing what to expect from the couple, she pulled up near the bushes, rolled down her window and hollered, "I have food for you!" The man and woman walked out. Their clothes were dirty and tattered but their faces showed expectation. They gladly took the food.
"I'll let the Mrs. eat first," the man said, "then I'll eat the leftovers."
Debi knew that buying them daily meals would be too expensive, so she started cooking for them. Sometimes she'd make extra when she cooked for her own family, and other times she'd fix them something different. This went on for months until the Christmas season arrived.
Invite You
"We'd like to invite you to our home for Christmas dinner," she told the couple one day.
"Oh, we can't do that!" they said. "We can't leave our spot and our cart. Someone might take them."
They couldn't be convinced, so Debi took them each a full plate of food on Christmas day.
When she returned with another meal after the holidays, the couple's "home" was gone. Someone had trimmed the bushes and the couple was nowhere to be found. Debi kept an eye out for them around town, but she never saw them again.
"I'll never forget them," she told me. "And I'll never forget what it was like to help Jesus care for the hungry and the homeless."
What's the best gift you could give Jesus during this season in which we celebrate His birth? I think that Matthew 25:37-40 gives us the answer:
"Then the righteous will answer him, 'Lord, when did we see you hungry and feed you, or thirsty and give you something to drink? When did we see you a stranger and invite you in, or needing clothes and clothe you? When did we see you sick or in prison and go to visit you?'
"The King will reply, 'Truly I tell you, whatever you did for one of the least of these brothers and sisters of mine, you did for me.'"