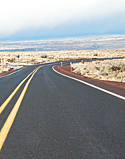 Right now my life is in transition. My plans for the future are not definite. I'm facing several different roads, and I'm not sure which direction God is going to take me. It's tempting to want to decide for myself, and make my own plans; thus turning my vague future into a reality. It can appear appealing to have the security of knowing what the future holds in the next few years. But what I really need to do is trust. Trust in my Creator.
As humans, our finite minds can only see ahead and comprehend so much. We sometimes feel like we need to give God advice, or offer our opinions on the Lord's plan for our lives. It's as if we're saying, "God, in case you didn't know, I'd really prefer this over that…" But by doing this, we reveal our lack of trust in the infinite One we serve.
Our God knows the end from the beginning, and owns "the cattle on a thousand hills," (Psalms 50:10). As Maker and Creator of all the heaven and earth, Jesus knew all about us before we were born. He planned our future, previous to a single beat of our heart. In Jeremiah 29:11 it says, "For I know the thoughts that I think toward you, says the Lord, thoughts of peace and not of evil, to give you a future and a hope." He has our very best interest in mind.
Strengthen and Shape Us
As we all face indefinite things in our future, we must remember that Jesus, our personal Friend, has the absolute, perfect plan for us. He understands us better than we understand ourselves, and knows just what experiences we need to go through to strengthen and shape us. As we daily trust in His omniscience, we can truly experience that "peace that passes understanding" (Philippians 4:7).
As I face my uncertainties, I've chosen to trust my Savior. Even when it feels daunting or disconcerting to face an unknown future, I've still found that complete peace comes when I trust. In fact, life becomes more unsettled when I try to take it in my own hands.
So trust, even when it's tough. Remember that Jesus walked this earth and knows the temptations and discouragements we face. He will take our hand and lead us through green pastures, and beside still waters. He will restore our soul. But even if we walk through the valley of the shadow of death, we don't need to fear any evil, "for You are with me; Your rod and Your staff, they comfort me." (Psalm 23:4).