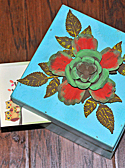 I have a box that I keep tucked away, filled with little notes and drawings from my past students. Occasionally, I will take it out and reread them, cherishing the memories behind the crooked handwriting and stick figure drawings.
I smile as I remember the shy, quiet student who wouldn't speak up much but wrote such a sweet note.
I laugh a little as I look at a portrait drawn of me by a bubbly, cheerful student.
Each one of them holds a special place in my heart and I always feel a warm glow thinking of them. I pray that they continue to grow and use their many talents even though I am no longer a part of their lives to witness it.
If I take a closer look at this sentimental stash, something else stands out to me. There is an absence of fuzzy reminders for a certain faction of my past students; those students who I had a harder time creating a meaningful connection with; those students who I cried over, worried over, and prayed for strength to deal with. It is easy to look back fondly at the students who loved learning and reminded me why I felt called to teach in the first place.
It's Not About Me
It is harder to look back with the same feelings for some of the "difficult" children. I have to remind myself, as I did over and over when they were in my charge, it's not about me. Most of them were dealing with challenges that no child should have to face: poverty, abuse, loneliness, and brokenness. I found it harder to love them, but they were the ones that needed my love and encouragement the most.
I know I have many moments that I am not "lovable." I complain and whine to God about the obstacles in my day, forget to thank Him for the limitless blessings He places in my life, and I make the same mistakes again and again. His love for me is infinite despite my waywardness. He is calling me to follow His perfect example of love; to love even when it isn't convenient or easy.
"For if you love those who love you, what reward have you? ….Therefore you shall be perfect, just as your Father in heaven is perfect" (Matthew 5:46, 48).
My God loves me, despite all of my many imperfections and He will enable me to be a vessel to pour out His love onto all of His precious children.