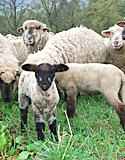 Thunder rumbled across the high mountain valley, lightning flashed and rain pelted against the canvas walls of our tent. I snuggled further into my warm, dry sleeping bag. An afternoon thunderstorm isn't unusual in the San Juan Mountains of Colorado during July and August, but this storm was lasting well into the night.
As I lay listening to the roar of the storm, another sound joined the crescendo. My husband nudged me, "It's the sheep; the shepherd must have brought them down here to a more sheltered place."
We had come upon the sheep and their shepherd earlier that morning while hiking on the Colorado Trail. Topping a hill, we'd look down and there scattered in a meadow below us were sheep—hundreds of them it seemed. In the midst of them was a shepherd watching and talking softly to his flock. Weaving our way through the sheep, we'd greeted the shepherd and continued on our hike.
As the storm continued I listened. Lightening would flash. Then there would be a clap of thunder, and the sheep would go into a panic mode with a lot of loud bleating. But above the din I would hear the soft voice of the shepherd calming the sheep and for a while they'd settle down.
He Never Left Them
I thought of the shepherd as he had led his flock down the steep, treacherous mountainside to a safer place. I wondered if the sheep had protested as he had gently urged them on. At times when I'd awake during the night I could hear the sheep and then the shepherd as he calmed his flock. No matter how fierce the storm, he never left them.
We awoke the next morning to sunshine and a brilliant, blue Colorado sky. As I looked out the tent door, I saw the shepherd leading his sheep back up the mountain toward greener pastures.
The psalmist declares, "The Lord is my shepherd; I shall not want." (Psalms 23:1). Storm clouds darken our paths, the wind blows, the lightning flashes, and the way ahead seems uncertain—still He is there. God is always with us just as the shepherd was with his sheep that night in the mountains.
Jesus says, "My sheep hear My voice and I know them, and they follow Me" (John 10:27). That stormy night in the mountains the sheep knew their shepherd's voice. When he called they followed.
We learn to recognize the Shepherd's voice by taking time each day to study His Word and pray. We must ask Him to live within us.
Is Jesus' calling you today? Do you recognize His voice? Take time to get to know Jesus and then trust Him to care for you no matter what trials come. He will never leave you.