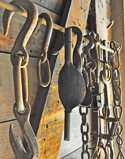 Antique stores abound throughout the United States. Some are attractive places, while others look like junk yards. One such eye-sore exists a short distance from where I live. I keep wishing the owner might close out and retire.
However, I recently read an article in the newspaper about the proprietor of this unusual antique store. He tells that there's nothing he'd rather do because he knows what he sells brings joy to others. How can this be? I thought. I discovered that most customers who frequent his establishment come seeking items that hold memories. Some will buy these items in nasty condition to repair, restoring the memory.
Though this salesman's business doesn't make him rich, once in a while someone comes to buy several thousand dollars of his merchandise. He recently sold to a celebrity. This junky stuff, in its present state, will be restored to look like new by Mr. Celebrity, just as most of the buyers do. The rusted, half-rotted, tattered and torn will find new life with paint, needle, and such.
Yes, I know that there are some folks with eclectic tastes, who like to set up an old rusty iron headboard in a garden with morning glory vines planted to grow over it, but that isn't restoring it, though it is utilizing it. That's good, too, because it's rather like overcoming a handicap and being useful in a new way.
Restoration Replaces Worthlessness
Of course, the reason for the present motley state of the bargain barn items is because of neglect of care and being unused. However, restoration replaces worthlessness. Isn't it similar, only much better when the Lord does that for us with our bereft lives in need of repair?
God gives us many gifts including talents. However, the term "talent" in the New Testament means money, not ability. Those talents Jesus spoke about in Matthew 25:14-30 referred to the largest unit of currency in those days. New Nave's Topical Bible suggests that a person who possessed five talents of gold or silver at the time Jesus told the parable equals being a multimillionaire today. By this parable, Jesus taught that the talent buried in the ground became unused and worthless providing no interest, a loss of both stewardship and servanthood. It's how we use our talents that count.
These aspects are best taught to little children, by our example. However, many of us are grown–even old–before we realize God is waiting to restore us. God knows that we need fixing, and not just white-washed like a sepulchre. We need an inside paint job of the finest quality. God is par-excellent at fixing up what appears to be junk, making us worthy, not worthless.
I hold a new respect for the proprietor of the junky-looking stuff, that he travels many miles to accumulate and sell to the fixer-uppers. Now every time I pass his business I'll be reminded of how God is fixing me to be worthy to abide in His kingdom.