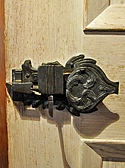 I recently watched a documentary on the Colditz Cock. It told the incredible story of British prisoners, held in one of the most tightly secured Nazi compounds during World War II, who actually built a glider in which two men planned to escape.
The Colditz Castle was like a German "Alcatraz" that was created after a famous "Great Escape" took place from Stalag Luft III. Axis leaders were determined to prevent further escapes and turned the Colditz Castle into an escape-proof prison.
But British prisoners of war had other ideas. Lieutenant Tony Rolt noticed one day that a chapel roof line in the castle was not visible to the guards. The men had access to the attic near the roof and began to assemble a two-seat glider. Great ingenuity was used to find and use scraps of material to create the plane. Bed slats, tables, and parts of sleeping bags wound up making up the 240 pound machine.
Their plan was to knock out a wall and use a catapult system, made of pulleys and a metal bathtub full of concrete, to launch the craft out of the compound, over a river, and into a nearby field. But the war ended before their dream was realized. One photo of the glider exists, taken by an American newspaper correspondent.
Glider
In March 2012, a UK glider company built a radio controlled full-sized replica and actually assembled it in the Colditz Castle, mounted it on the chapel roof and flew it off the building. Though 55 years had passed, some of the men who were POWs witnessed the event. No one knows whatever became of the original glider, although one of the builders kept the original drawings of the craft.
[1]
It reminds me of the escape-proof prison of sin created by the devil to hold us down. Paul explains, "But the Scriptures declare that we are all prisoners of sin…" (Galatians 3:22, NLT). He states that all are "under sin" (Romans 3:9, NKJV) and "fall short of the glory of God" (3:23).
But we are not left alone. We are not abandoned under lock and key without hope. "No temptation has overtaken you except such as is common to man; but God is faithful, who will not allow you to be tempted beyond what you are able, but with the temptation will also make the way of escape, that you may be able to bear it" (1 Corinthians 10:13).
The way of escape is found by turning to Jesus. "It is for freedom that Christ has set us free. Stand firm, then, and do not let yourselves be burdened again by a yoke of slavery" (Galatians 5:1, NIV). When we are struggling under such bondage, there is a plan, a way out provided by Jesus. Like the Colditz Cock, God's ways are creative. The Lord's methods of escape baffle the enemy, but will give us a lift to freedom.